Kia Express Service in PA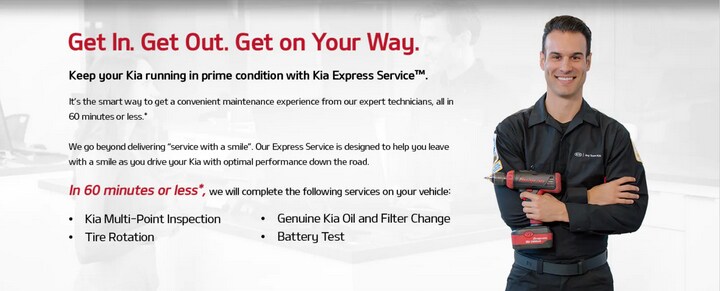 Kia Express Service Near Pittsburgh
Keeping up with recommended car maintenance is hugely important to keep your Kia running its best, and our Pittsburgh area service department is happy make it quick & convenient to take care of your basic maintenance needs. With Kia Express Service, local drivers can stop by our McMurray dealership for oil changes and more with no appointment necessary. Our goal is to provide you with top-tier auto maintenance with impressive convenience to keep you safe on PA roads:
Fast Service: most of our Express Service offerings can be taken care of in an hour or less.
Exceptional Quality: we offer expert technicians, excellent customer service, and genuine Kia parts.
Kia Express Service allow you to get in and out for quality, fast service at an excellent value.
Speedy Service With No Appointment Necessary

With some limitations, Kia Express Service can take care of you in 60 minutes or less. You don't have to spend all day without your Kia. You can have a cup of coffee and use our complimentary Wi-Fi while you wait. We'll have you back to driving through Pittsburgh before you know it.
You don't need to schedule an appointment with Kia Express Service. We make it easy to get the work you need done by offering Kia Express Service during our regular business hours. You can bring your car in from Pittsburgh any time and we'll get straight to work.
What Kia Express Service Offers

Any time you bring your Kia into Kia Express Service, we can perform a Kia multi-point inspection, tire rotation, a battery test and a Kia oil and filter change. We ensure your Kia is running smoothly around the Pittsburgh area and catch any little problems that may have gone unnoticed otherwise. This way we can keep bigger maintenance jobs from being necessary.
Kia Oil Changes & Filter Replacement
Engine oil is hugely important for your Kia's well-being. Oil reduces friction between moving parts and helps remove heat from your engine. Our service center offers quick, quality oil changes with genuine Kia oil filters.
Complimentary Multi-Point Inspections
A quick multi-point inspection is highly recommended to make sure your vehicle is running its best before heading out on a road trip. Our trained Kia technicians will asses the condition of your brake pads, tire tread wear, fluid levels, drive belt & more to let you know if additional repairs or maintenance are necessary.
Tire Rotations
Regular tire rotations help to ensure that your Kia's tires wear evenly to help maximize their lifespan. Maintaining correct tire pressure is also important, especially in regions like Pittsburgh where there can be substantial temperature changes throughout the year. Manufacturers recommend tire rotations every 5,000 miles, and our Express Service lane makes this upkeep very convenient for McMurray area Kia drivers.
Battery Testing
Our factory trained mechanics can test your Kia's battery to make sure it's still working properly. Even if your car is still starting regularly, we can let you know if the battery is getting weak or not maintaining proper voltage. We have genuine Kia replacement batteries on-site if you end up needing a replacement.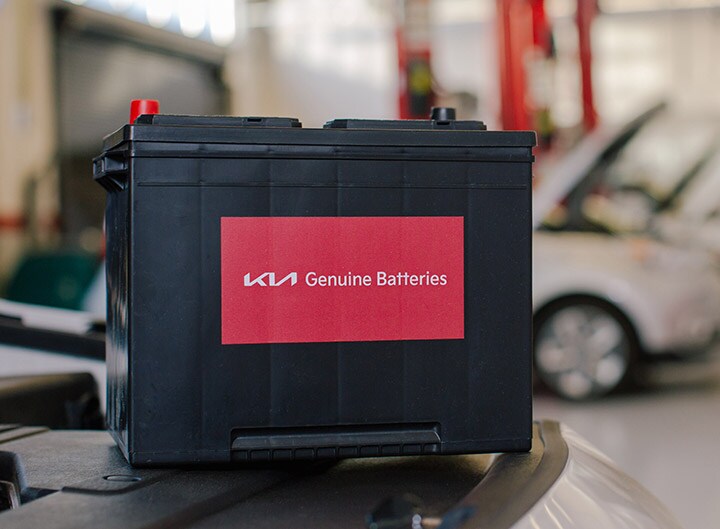 Visit Our Kia Express Service Lane in McMurray, PA
We can give you the service you need without the hassle normally associated with car maintenance. Come down to South Hills Kia and let us give you fantastic service in under 60 minutes. Our factory-trained technicians are here to take terrific care of you and your Kia. If you need any other kind of service, you can make an appointment with us online and have that same quality service on the rest of your car.